Daikin Air Conditioning: The Ultimate HVAC Solution for Your Home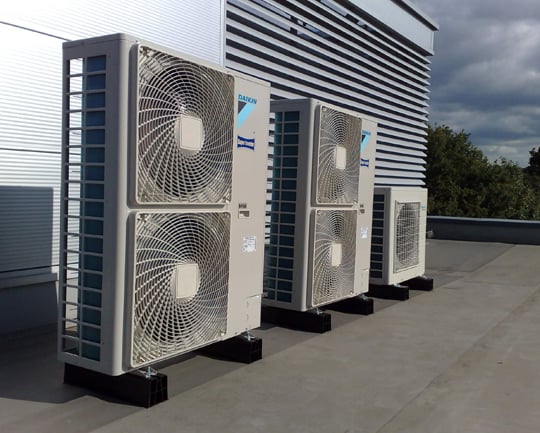 Why Choose Daikin
Daikin was established in 1924. Decades of experience, of continuing research and development, have made Daikin one of the leading brands in the air conditioning industry. They are quick to adapt to the needs of the consumers, whether in the residential, commercial, or industrial setting.
Advanced Features
Daikin brands have intelligent eye technology. The unit adjusts the temperature, automatically with the use of infrared sensors. This adjustment happens when the unit doesn't detect your presence in the area. Moreover, the unit uses this technology to direct airflow to people present in the room.
Air Flow Efficiency
Coanda air flow is another impressive advantage of Daikin air conditioning unit. The AC unit can direct airflow to an open area for optimum cooling. The result is a cooled room in every corner.
Programmable
The Daikin air conditioner is fully programmable. You can control the intelligent eye and airflow feature with your remote control. Alternatively, you can program which room will automatically get cooler.
Built-in Air Purifiers
Australia has one of the highest incidences of asthma and respiratory-related diseases in the world. This is due largely to the humidity we experience in Sydney.
Thus, most residents prefer Daikin because of its built-in air purifiers. A Daikin AC unit cools your room and at the same time cleans the air you breathe.
Australia's Sensitive Choice
Daikin air conditioners carry the symbol of the blue butterfly. This image is the symbol of the National Asthma Council Australia Sensitive Choice.
It means an air conditioning unit is suitable for people with asthma and allergies. Daikin's split-system is the only brand that this Council recognises.
Quiet Operation
An air conditioner works harder when the temperature rises. This generally causes the fans inside to get noticeably noisy. With Daikin air conditioners, consumers are happy to note that this is not a problem.
Daikin air conditioning units are the quietest with a 22dB noise rating. This quiet operation translates to a more conducive place for rest and relaxation.
You can sleep better at night even during the hottest day in Sydney's summer. We know how temperatures can shoot up in Sydney during summer so you would really appreciate this feature.
Reverse Cycle
Daikin Industries mastered this reverse cycle technology. Reverse cycle technology is the capacity of an air conditioner to heat or cool a room using the same unit installed. This technology saves you installation costs, time, and maintenance expense.
The concept is quite simple. You use the cooling system during the summer and the heating system during the winter season. These functionalities come from the same AC unit.
Energy Efficient
Every Daikin air conditioning solution has an inverter for energy savings. Energy savings mean a lower cost in your utility bills.
An inverter can either be premium or standard. Learn more about inverters in the latter part of this article.
Excellent After-Sales Customer Support
Daikin is a big company with over a hundred countries as its market. Despite their extensive customer base, their after-sales support structure is the best.
The support team is knowledgeable and are experts in the air conditioning industry. Over the years, their support system obtained the trust of customers worldwide. So, whatever problems you encounter, you can get the solutions you need.
Wide Product Range
Whatever your requirements are, you have many products to choose from within Daikin's product range. Whether it's ducted air conditioning or split systems, Daikin has the AC system to best suit the consumer's needs.
Daikin brand caters both commercial and residential solutions. All you need to do is to contact a specialist dealer available in your area to get a quotation.
Products of Daikin Industries
For ninety years, Daikin spent significant research and costs in developing its technology. It has built a comprehensive range of products that homeowners and business operators can choose from.
So, what are the products of Daikin Industries?
Daikin Air Conditioning
Altherma Hydronic Heating
Ventilation Products
Commercial Solutions
Marine HVAC
Air Purifiers
Daikin also offers dedicated air purifiers. These purifiers are ideal for homes with air pollutants in its atmosphere.
If you live in humid and polluted areas, you might require a separate air purifier. This separate purifier helps in clearing moulds, dust, and allergens in the air.
Altherma Hydronic Heating
This Daikin technology solution takes care of the air to water heating system of a home. The system address floor heating, hot water heating, and other related solutions.
With this product, you can have hot water in the shower any time of the year. Moreover, you can opt for solar connectors for up to 60% savings on your utility bill.
Ventilation Products
These products are perfect for commercial spaces where windows and vents aren't correctly installed.
Cramped spaces and heat sources can cause the workplace to become inconvenient. With Daikin ventilation products, employers can improve air quality in an office which helps boost productivity.
Commercial Solutions
These solutions include container refrigeration units and chillers. Other solutions are packaged air conditioners, airside equipment, and low-to-medium temperature refrigeration.
Daikin Air Conditioning System
Daikin air conditioning is either ducted, split, or multi-split systems. These systems have wall-mounted or floor-standing indoor units.
Depending on your home requirements, you can choose either one of these systems. To help you choose, we have provided a few details about each system and which one is the best for your specific needs.
Ducted Air Conditioning Systems
A ducted air conditioner consists of indoor units and an outdoor unit. The cooled air enters your room or house through vents or grilles installed in one part of the room.
This system provides a discreet and seamless design inside your house. Often, you won't notice where the indoor unit is until it's time to clean them. However, this system is quite hard to maintain, and running costs are often high.
This system is best for small to large houses with existing duct air conditioners.
A split system consists of one indoor unit and one outdoor unit. The indoor unit can either be wall-mounted or floor standing.
This system is perfect for small to large rooms. It is ideal for homeowners who need to cool one room at a time. The sleek design blends well with a contemporary architectural design.
For the wall-mounted series, you can conveniently control the indoor unit with the D-mobile app through a wireless network.
Multi-split Systems
A multi-split system has one outdoor unit but multiple indoor units. In this system, an indoor unit could either be wall-mounted, ceiling suspended, floor standing, or ducted.
Multi-split air conditioners save on running costs. These AC units are more convenient for large houses and apartment-style buildings. Daikin VRV IV-S and Super Multi NX are the two options for this system.
The Daikin VRV IV-S can cool up to 14 rooms. Thus, it's perfect for extra-large houses. Super Multi NX is excellent for homes with up to five rooms.
Daikin Air Conditioning Inverters
In the first part of this article, you learned about inverter technology and its role in saving costs. Many of the Daikin air conditioning units have inverters installed in them.
The inverters control the speed of the compressor motor by regulating the AC (alternating current) that enters it. As a result, the compressor motor produces a steady temperature. This constant production of conditioned air results in a more efficient machine.
Aside from this, an inverter prolongs the useful life of an air conditioning unit. This is the effect of the inverter preventing power fluctuations in the parts of the AC unit. Thus, maintenance costs are lower in AC with an inverter than in non-inverted units.
Inverters are either standard or premium quality. Inverted air conditioning units are more expensive than standard AC. However, generally speaking, the cost of savings will cover the cost of investment over two years.
Daikin Premium Inverter
A premium inverter in Daikin yields more efficient and more powerful results in terms of energy savings and airflow efficiency. This inverter is perfect for ducted air conditioners, and multi-split systems.
Even if the piping runs for 75 metres, the room will cool faster than with a standard air conditioner. This inverter offers flexibility in placing the outdoor unit and is suited for homes with a large backyard.
Daikin Standard Inverter
This inverter cools a room slower than a premium inverter. However, it is still efficient in providing a steady temperature. It is more suitable for split systems. The trade-off is that it takes longer for the unit to reach the desired temperature.
A standard inverter has a lower buying price than a premium inverted air conditioner.
Running Costs
Generally, an AC with a smaller area to cool has lower running costs compared to that of a larger area. However, other factors need to be considered. Thus, running costs for Daikin air conditioning units vary considerably. The costs depend on daily use, type of air conditioning system, and property area.
Factors Affecting Running Costs
Seasonal Effect
Winter heating costs are higher than summer cooling costs. These costs may range from a few hundred to a thousand dollars. The total cost depends on how often you use the air conditioning unit.
An air conditioning unit with an inverter has lower costs by $10 to $20 in annual expenses. Typically, an inverted split system is cheaper than ducted.
Cooling Area
This factor affects the running cost of your Daikin Air Conditioner. Interestingly, ducted evaporating systems have lower cooling costs than split system air conditioners. This is true in large areas with 60 square meters and above.
Energy Rating Star
Air conditioning units with a 4 to 5 energy star rating are more efficient in saving energy than older versions. If your air conditioning system is the largest contributor to your power bill, you might want an upgrade.
Two Tips to Save on Running Costs
If you aren't careful, your running costs will escalate due to improper usage. Thus, here are two simple tips to maximise the benefits of your air conditioning unit.
One, set up the appropriate temperature. This slight change will surprise you when your monthly power bill arrives.
Two, cleanliness keeps an efficient air conditioning unit. Indeed, your AC has a built-in air purifier and powerful air filter. However, a dirty atmosphere will mean your AC needs to work harder than usual.
Bottom Line
In summary, a Daikin air conditioning system is the ultimate solution for your home and business, too. It is efficient, quiet, and technologically more advanced than other brands.
If you are considering an installation or an upgrade, you can contact us to help you find the perfect air conditioning solution.