Ducted Air Conditioning: Cooling for Large Spaces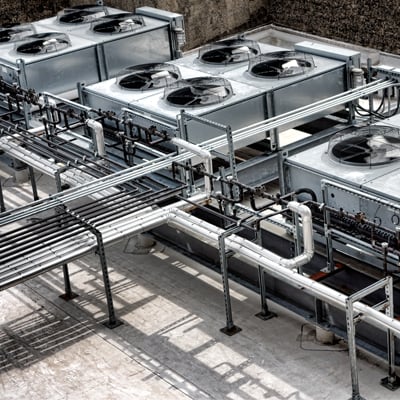 Ducted air conditioning is a system that aims to cool your entire property, allowing you to enjoy a cooler area every summer and a warmer one every winter. And based on consumer feedback, it saves cost in the long run!
Before you decide on an air conditioning system for you, we at ClimaCool will show you how this system works.
How Does Ducted Air Conditioning Work?
Ducted air conditioning works as a centralised system. Because it is centralised, you'll get to control the temperature of all areas that it covers using one controller unit.
This system contrasts with ductless systems (split systems), which require a single air conditioning unit in every room.
As its name shows, this air conditioning system requires ducts. They are made of sheet metal, and inside them, air, whether warm or cool, goes through. You'll find these ducts inside your property's walls and ceilings.
When you have this system installed, you'll only see vents in your ceiling. It's from these vents that air comes out, cooling or warming every room. You'll only need to set the thermostat on, and the system will do its thing.
Air Conditioner Types
Ducted air conditioners come in many forms. You can choose the type of air conditioner depending on the size of your building and its layout. See below the different types of ducted systems that are available from us.
Systems according to size
You may choose air conditioning systems depending on the size of your building's ceilings.
Some manufacturers offer slim ducted air conditioning systems, which may fit ceiling spaces of any size. Also, depending on your building's plan and the areas that your place needs to cool or heat.
Split systems
Split air conditioning systems may also come in a ducted form. They have two parts, an outdoor unit that compresses air, and the indoor unit that evaporates this compressed air. Split air conditioning works especially when you are adding a room in your home or building.
Reverse-cycle air conditioning
If you live in areas with a temperate climate such as Sydney, you might consider using a reverse-cycle air conditioning system. This system works by absorbing heat in both directions, depending on the season. You'll only need to use switches to change the direction of heat absorption.
When Might You Consider Ducted Air Conditioning?
Ducted air conditioning works best with large areas, making it a popular option for commercial buildings such as malls, factories and libraries. Also, modern ducted air conditioning systems have a zoning feature that helps you adjust the temperature of each area in your room.
This system works best when you want to keep a constant room temperature throughout the year. This helps, especially here in Sydney, where the weather has varying extremes in temperature.
Energy efficiency is also one of the advantages of having this air conditioning system. This is because you'll only need to adjust the one thermostat for all rooms in your home or commercial building. Because ducted air conditioning units use energy efficiently, you'll spend less on your electricity bill in the long run.
This air conditioning system helps keep your place aesthetically pleasing as you won't see bulky air conditioners in every room, whilst the vents are placed in subtle locations. This will, in turn, increase the value of your property.
Factors to consider when installing an air-con system
When you decide to install a ducted air conditioner, you need to account for certain factors. Knowing the importance of these factors will help you choose the system that works best for your building.
The first thing that you need to watch out for is your home's or building's plan. This means you need to know the size of each room, the number of storeys, the height of ceilings in every storey and the rooms' orientation.
You also need to note where your doors and windows are situated. This is because windows and doors can affect the flow and distribution of air inside the installed ducts.
Another important consideration is the purpose of each room in your home or building. For instance, you might consider having stronger air conditioning in living areas, while sleeping areas might benefit from more modulated airflow.
Ceiling spaces will also affect the sizes of vents and ductwork that you can install in your home. If your house or building has a small ceiling space between the roof, you might consider installing a system with a slim design.
Since ducted air conditioners have outdoor components, you also need to account for the noise that the compressor makes. Since noise may become a concern, especially in residential areas, you might need to find an area where you and your neighbourhood won't be bothered by the compressor.
If your space is for commercial purposes, you might consider having a system with a three-phase power supply. While this might increase the cost of installing a system, you might save more money in the long term.
How Much Does a Ducted Air Conditioning Cost in Sydney?
The cost of installing a ducted air conditioning system might differ, depending on your location and your building's purpose. At ClimaCool, we will offer the best installation services for the best cost.
While installing a ducted air conditioning system may cost higher upfront, the long-term savings, including repairs and upgrades, may make ducted the best option for you.
Enquire now about our services.
Whatever brand you choose and the system that you need, we'll do it for you. We offer these brands:
Daikin
Mitsubishi Electric
Panasonic
Samsung
Toshiba
We make sure that our ductwork adheres to AS 4254, the national standard for ducting. This way, heat will travel efficiently, while keeping your property safe for your family, employees and visitors.
We are a team of licensed and experienced air conditioning service professionals. This expertise is what we commit to all projects, whether installing an air-con system in your home or office.
We've earned a reputation through servicing all suburbs within Sydney, and our experience and expertise should give you the confidence in ClimaCool to provide all your air conditioning needs.
Call us on 1300 379 334 or email us at [email protected] to get a free quote.