Seven questions to ask your air conditioner installer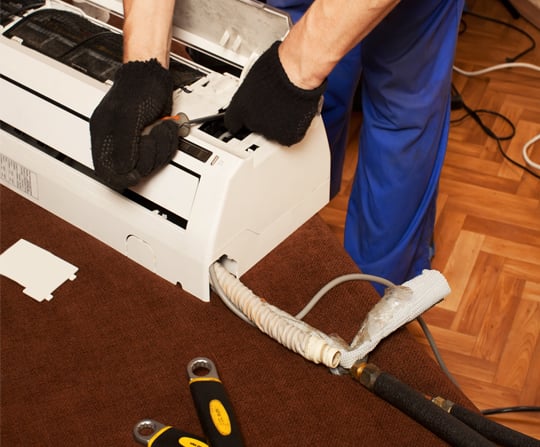 Whether you're looking for ducted air conditioning or a simple split system, buying and installing an air conditioner is an investment in your home and lifestyle.
That means you should take the time to understand which air-conditioning option best suits your home, what lifespan it's likely to offer and the ongoing maintenance and servicing it will require.
Here's a list of seven questions you should ask your air conditioner installer to ensure you're getting a system that meets your needs and will stand the test of time.
What system?
When it comes to air conditioning types, there are basically three to choose from: ducted, split system and multi-split system.
Your air conditioner installer will generally recommend a system based on how you use your home and the space you want cooled and/or heated.
In a nutshell…
Ducted air conditioners – suit a home where there are open plan living areas or where you wish to heat and cool the entire home using zones to shut off heating and cooling to select areas.
Split systems – are generally used to heat and cool single rooms or areas.
Multi split systems – employ individual areas to heat and cool select zones, like your living room and bedroom.
Meanwhile, you also have the option of just cooling your home or a reverse cycle air conditioner which can also heat your home in winter.
What size?
Size matters in the world of air conditioners, so ask your installer what size they recommend based on the layout of your home and the areas you wish to heat and cool.
What features?
New air conditioners come with all sorts of different features.
Some to consider include:
Motion sensors – which can sense when someone enters the room and note the temperature rise, then respond by cooling or heating the area.
Zoning – which applies to ducted systems and allows you to shut off the heating and cooling to areas of your home that are not in use.
Remote control – These days remote controls are pretty much par for the course with any air conditioner, but you can also link your air conditioner in with smart home technology which allows you to control your system via smart phone.
System check lights – Some air conditioners feature system check lights which indicate when something needs attention with your system or is not working properly.
Are you licensed and insured?
All air conditioner installers should be licensed and adequately insured, but it's worth checking at the outset to ensure they have the right credentials to install and connect an air conditioner in your home.
What servicing and maintenance will be required?
Like any investment in your home, an air conditioner will need servicing and maintenance to maximise its efficiency and lifespan.
Ask your installer what lifespan they expect from your system, which tasks you should undertake, when (like cleaning filters), and how often the system should be professionally serviced.
It's also worth ascertaining whether the installer offers future servicing as well as initial installation.
How do I maximise my air conditioner's efficiency?
In addition to installing your air conditioner, the technician who attends your home should be able to show you how to maximise its efficiency to cut down on electricity consumption.
They may also be able to recommend energy efficient options at the outset.
What warranty and after-sales service do you offer?
If you're spending hard earned money on climate control for your home, it's good to have the peace of mind that there's a warranty on the product and installation, as well as after-sales service if necessary.
About Climacool
Servicing the greater Sydney region, Climacool Air Conditioning prides itself on superior service and quality workmanship.
We work with the leading brands in the field of heating and cooling, and have an enviable reputation for meeting the needs of our valued commercial clientele in air conditioning installation, service, and repairs.
You can learn more about our commercial services here, or contact us directly for assistance in selecting, installing and maintaining the right air conditioning system for your business.